What's New
Lobbies Reopened
We are happy to announce that our lobbies are open, as of March 15th. For your health and safety, we will have restrictions on the number of people in our buildings to maintain social distancing guidelines, provide hand sanitizer and masks. We encourage you to continue to use the drive-up facilities and our online banking services (Netbranch & Mobiliti) as much as possible. We are looking forward to seeing you again!
Important Information for Tax Refunds
To avoid delays on direct deposits of your tax refunds, make sure to use the correctly formatted account number. Wrong account numbers may cause returns to be sent back to the IRS.
VCCU's routing number is 275980735. Your account number is the 10-digit number at the bottom of your check that begins with "0." The full 10-digits must be used.

If you don't have checks, or want to deposit your refund to another account, please contact your local VCCU branch for assistance, or send us a message through NetBranch.
Hot RV Loans, Cool Contest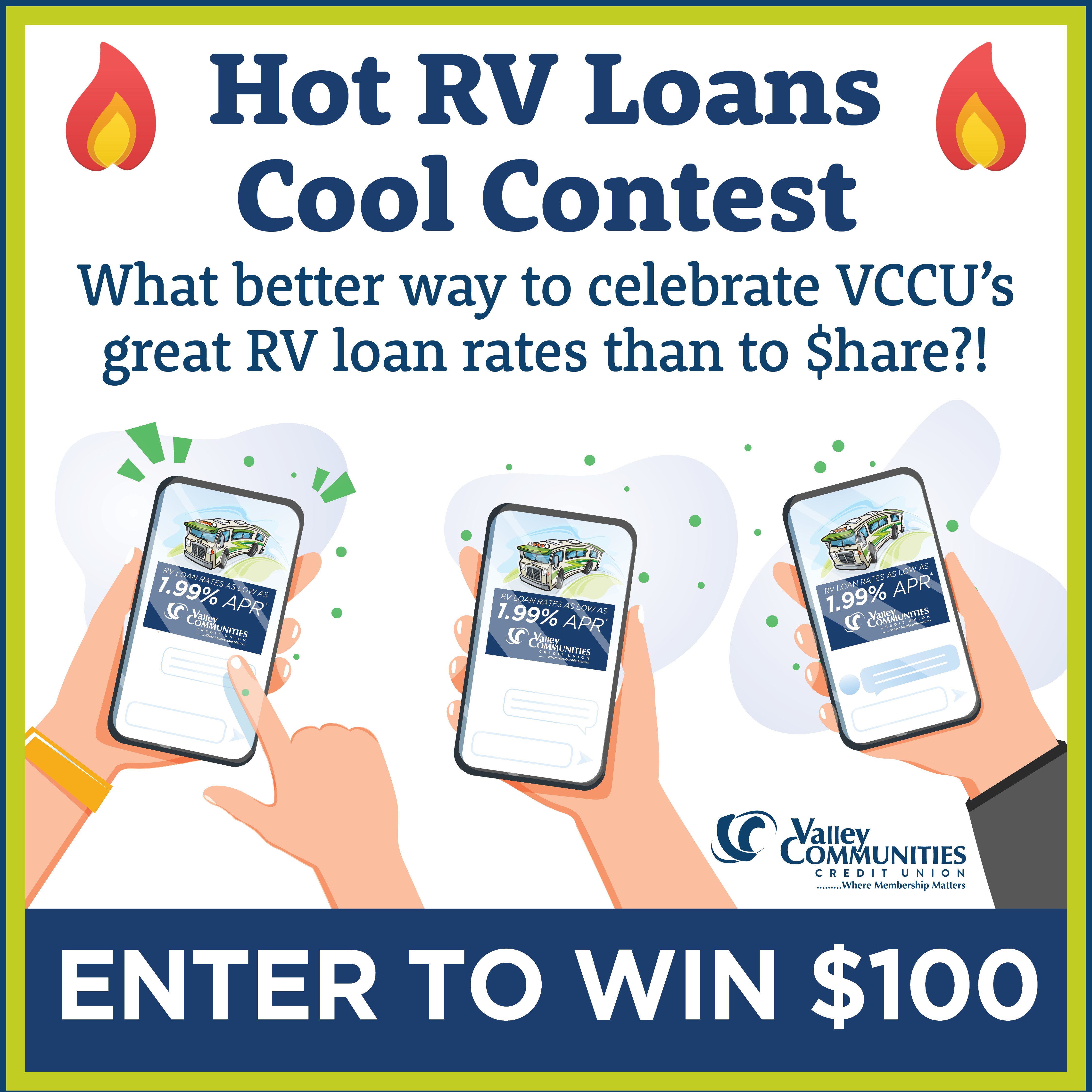 To celebrate our great RV loan rates of 1.99% APR,* we will be giving $100 Walmart gift cards to contest winners during the months of March and April!
To enter you need to:
1. Like and Follow Valley Communities Credit Union at https://www.facebook.com/ValleyCommunitiesCU
2. Like the Hot RV Loans, Cool Contest March 5th post in Facebook
3. Tag a friend in the comments section of this Facebook post.
Congratulations to our first two winners - Sarah Danner and Tammy Benis-Schantz! There is ONE more chance to win before the end of April, so keep trying! Good luck to all!
*APR or annual percentage rate is accurate and is subject to change at any time. Each individual's APR is based on credit history, not all applicants will receive the lowest rate. Membership eligibility required. Other rates and terms available. Federally insured by NCUA.
Youth Month
April is Youth Month, and this year the theme is DINO-MITE … dinosaurs! "Be a credit union saver and your savings will never go extinct." It encourages kids to develop healthy saving habits by making savings fun and exciting.
There is a coloring page you can complete and submit, in our April 2021 Newsletter. (You can also download and print it at home from here.) There will be dino treats, and a fun dino mask contest. You can get the mask contest templates and rules from your local branch (in person or drive thru window), or you can download it here. Have fun!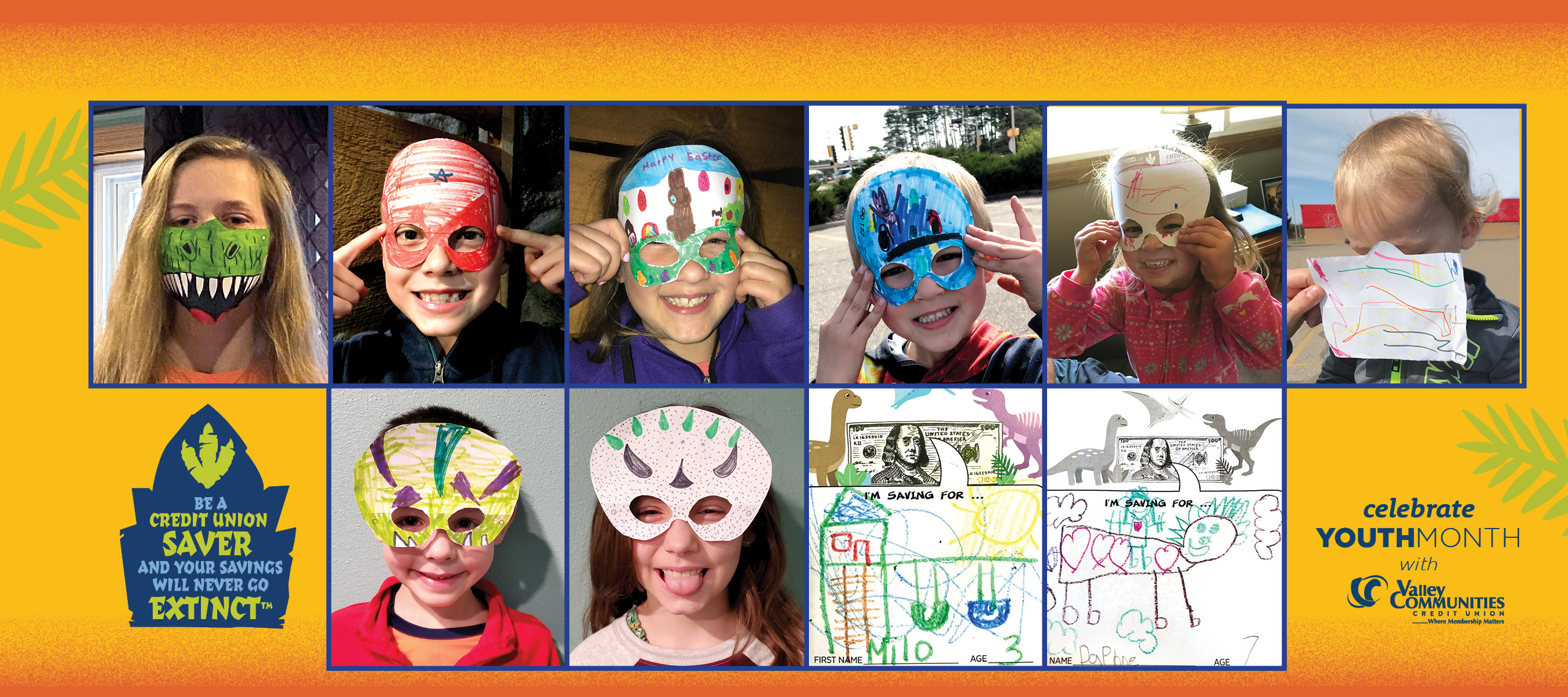 Be Safe with CardSecur
CardSecur is a mobile app that lets you control your credit and debit cards. Save time and gain peace of mind knowing you can control the cards in your wallet with the phone in your pocket. It's free for members using our Mobiliti mobile app!
• Get real-time notifications when your card is used.
• Restrict transactions to a certain area using your phone's GPS.
• Set security preferences to match your spending habits for your credit and debit cards.
• Set spending limits for every transaction.
• Enable or disable your cards to be used within certain merchant categories such as gas and groceries, hotel and travel.
• Lock and unlock cards with a few taps on your smartphone.
Credit Sense New Design and Features!
Credit Sense has a new modern design! It still has everything you love, plus new features to help you understand and improve your financial health.
New Credit Score Analysis "Cards"
Quickly evaluate all areas that make up your credit score.
New Interactive Simulator Tool
Select various financial decisions to see how they might affect your score.
More Graphics and Charts
Gain additional insights and see the impact of your financial activity on your credit score.
Log in to Netbranch or Mobiliti and check it out!
Kasasa® Rewards You!
What is Kasasa? It's free checking that rewards you. It's also an awesome savings account, Free Kasasa Saver®, and a top notch protection plan. It's all here at Valley Communities Credit Union! Call or click on the links to learn how we can reward you!
Kasasa Cash®
Kasasa Cash Back®
Kasasa Protect®.
Kasasa Saver®
Excellent Choice Credit Union Recipient
Check out what mysmallbank.com said about VCCU:
"With their almost perfect customer review score with the Better Business Bureau, high customer standards, and positive employee reviews, we are giving Valley Communities Credit Unions the designation of Excellent choice, Credit Union. So if you're looking for a great community-based credit union and you live or plan to live in the areas Valley Communities Credit Union serves, this could be a great financial institution for you."
Newsletters
Read about special offers and announcements in our Membership Matters quarterly newsletter.